Fiberoptic Converters for Ethernet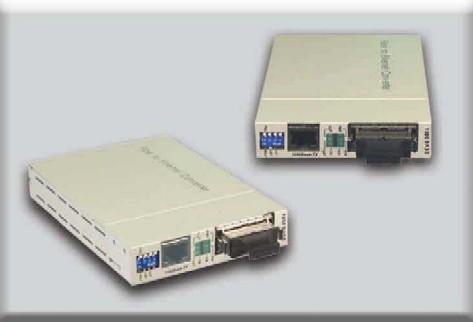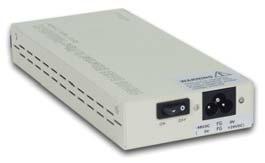 Features
l Complies with IEEE 802.3u 100Base-FX and 100Base-TX standards.
l Utilizes the latest WDM technology to provide TX and RX on a single fiber cable.
l Fiber connectivity up to 120Km for single-mode.
l ST or SC connectors accommodate single mode fiber optic cable size 9/125mm.
l One RJ-45 for straight or cross-over connection.
l Full Duplex, Half Duplex, or Auto selectable.
l 6 diagnostic LEDs display

Standalone Type ( Line Card Type ) Specifications
Compatibility
Standards: IEEE 802.3 10Base-T, 802.3u 100Base-TX and 100Base-FX
Protocol: CSMA/ CD
Physical Characteristics
Interface: RJ-45 connector, using UTP 100-ohm Cat. 3, 4 or 5 cable

ST or SC fiber connector, using 9/125mm single-mode fiber cable .
Wave Length Division: TX & RX combines in one fiber optic cable (WDM cards only)
Maximum Segment Length UTP cable: 100 m
Single-mode fiber optic cable, full duplex: 10 km
Temperature: 0°C to 50°C (Operating)
Humidity: 10% to 90% (Non-condensing)
External Power Supply: Input rating: 110 or 230 VAC, Output rating: 9VDC, 1 A (FIB1 family)
DC Power Supply available
Internal Power Supply: Input rating: 110 or 230VAC, 50-60Hz (FIB2 family)